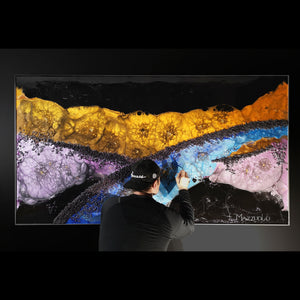 Prosperità
Regular price
Sale price
$7,300.00
---
Disponible à / available at
NAK Gallery
1285 Rue Wellington West
Ottawa, Ontario
K1Y 3A8
+1 (819) 328-8187
info@nakgallery.com
Résine et pigments/resin and pigments
Insertion or 24k et pierres/24k gold and  rock insertion
Tableau de bois /wooden board 48x88 "
Cadre intégré en aluminium sans soudure 2"x1/4" /Integrated seamless aluminum frame 2"x1/4"
FR
Besoin d'aide ou des questions? Contactez-nous pour un soutien personnalisé
Livraison
Emballage et la livraison inclus pour le Québec et l'Ontario pour les œuvres de 30x30 pouces et moins. Pour le reste du canada, les États-Unis, l'international et dans tous les cas d'une œuvre supérieure à 30x30 pouces, l'emballage et la livraison est aux frais de l'acheteur. Vous avez le choix :
De ramasser l'œuvre à l'atelier;
D'utiliser votre propre transporteur;
D'obtenir une soumission personnalisée.
Légal
Les prix  sont sujet à changement sans préavis.  
Les frais de livraison et tout autre frais sont la responsabilité de l'acheteur (taxe, dédouanement, frais administratif, etc.). 
Toute vente est finale.
Vente
Toutes les ventes seront traitées en dollars canadien (CAD) les taxes applicables vous seront chargées.
Expédition
Comme chaque œuvre est unique et requiert une caisse sur mesure, prévoyez de 2 à 10 jours avant l'expédition. 
Installation 
L'installation de l'œuvre est au frais de l'acheteur. Nous vous conseillons de faire affaire avec un installateur détenant une assurance dommage pour l'installation de votre œuvre.
Nous vous conseillons d'aviser votre assureur de l'acquisition de votre œuvre.
Authentification
Bien que vous recevrez une facture, votre œuvre est accompagné d'un certificat d'authenticité.
Garantie et conditions d'utilisation :
L'œuvre est assortie d'une garantie légale. La garantie ne couvre pas le jaunissement d'une résine exposée aux rayons ultra-violet(UV). L'œuvre est conçue pour un usage intérieur et  ne doit pas être exposée directement aux rayons UV.  Elle doit être solidement fixée à la structure du mur dans un environnement maintenu entre 18 à 24 degrés Celsius et une humidité relative entre 30 et 55%.
EN
Need help or questions? Contact us for personalized support.
Shipping
Packaging and delivery included for Quebec and Ontario for artworks of 30x30 inches or less. For the rest of Canada, the United States, international and in all cases of an artwork larger than 30x30 inches, packaging and delivery is at the buyer's expense. You have the choice:
- To pick up the work at the workshop;
- Use your own carrier;
- To obtain a personalized quote.
Legal
Delivery charges and any other fees are the buyer's responsibility (tax, customs clearance, administrative costs etc.). 
All sales are final.
Sale
All sales will be processed in Canadian dollars (CAD) applicable taxes will be charged.
Expedition:
As each work is unique and requires a custom box, plan 2 to 10 days handling.
Installation
The installation of the artwork is at the buyer's responsibility. We suggest you use an installer holding a damage insurance.
We also suggest you to notify your insurer of your acquisition
Authentication
Although you will receive an invoice, your artwork is accompanied by a certificate of authenticity.
Warranty and conditions of use:
The work is accompanied by a legal guarantee. The warranty does not cover the yellowing of a resin exposed to ultraviolet (UV) rays. The artwork is designed for indoor use and should not be exposed directly to UV light. It must be firmly attached to the wall structure in an environment maintained between 18 to 24 degrees Celsius and a relative humidity between 30 and 55%.